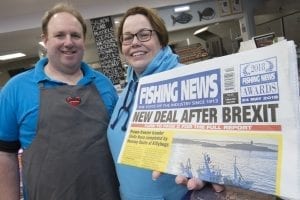 Totally chuffed that we are shortlisted in Fishing News Awards in 2 categories!
Its a eel'y big thing – especially as its the cafe's first time being nominated, never mind shortlisted for an award!  We are attending a glitzy award dinner in Aberbeen in May and will let you know how we get on – fish fingers crossed that with your help we can land the big one!
Winners are decided by public vote – so please can you give us a couple of minutes of your time and vote for us – twice?!
Thanks & Best Fishes
Robert and Ailsa