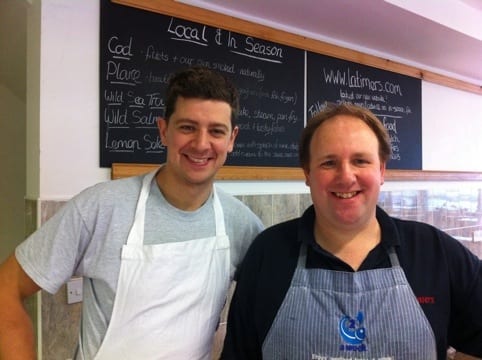 Events Diary Autumn / Winter 2011
We've finally had a chance to catch our collective breaths and sit with our diaries (and a few cups of tea – next time I thought we should bring wine!) and finalised some dates for our upcoming events with roving, top "pop – up" North East Chef  – Anthony Brown
October
Saturday 15th – Seafood Supper and Demo: Crab, Squid and En-papillote style of cooking fish.  Tasters and 2 course buffet. £35pp 3 seats left 6.30pm
Friday 28th – Seafood Supper and Demo: Prawns, Prawns, Prawns (our local langoustines are bang in season – so we thought we'd make the most of it!). Tasters and 2 course buffet £35pp 6.30pm
Saturday 29th  – Seafood Supper Club: Langoustines and Monkfish on the menu for our very popular Supper Club 4 course set menu. £30pp 7.30pm
November
Thursday 3rd – Seafood Lunch Club: Our first lunchtime event, enjoy the views while having a leisurely 3 course lunch, based on the French notion of a "Plat de Jour" – the pick of the catch will be used with seasonal accompaniments for your "Amuse Bouche" , Main Course and Scrumptious Dessert (which will not have any fish in – promise!) £20pp 12.15pm
Wednesday 9th – Seafood Supper and Demo: Halibut – the most fantastic king of the deeps, watch as Robert shows you everything you could ever want to know about these fantastic fishes, Crab – by popular demand, hopefully some of the lesser known velvet crab and spider crabs will make an appearance alongside our familiar brown crabs, and Ant will demonstrate what to do with all of the above and make a delicious winter warmer soup too. Tasters and 2 course buffet. £35pp 6.30pm
December
Saturday 3rd  & Friday 9th – Seafood Supper and Demo: Christmas Entertaining ideas for you to use over the festive period – or anytime! What to do with Lobsters… and…. well we haven't got there yet – any ideas welcome! Tasters and 2 course buffet. £35pp 6.30pm
Friday 16th Seafood Supper and Demo: Scallops, Prawns and a celebration dish for entertaining over the coming weeks – should be brill. Tasters and 2 course buffet. £35pp 6.30pm
Saturday 17th Christmas Seafood Extravaganzer  Supper Club: We are still working on the menu for this one – watch this space, I can tell you that it will be a fantastically prepared and cooked feast, don't eat any lunch… £40pp 7.30pm
At all events you are welcome to bring your own wine – we provide glasses, corkscrews and chilling facilities.
Booking is confirmed only on payment, and can not be refunded unless we are able to re-sell your seat.
We are happy to take group bookings and all our events would work well  for a group or works Christmas Party (better than cold rubbery turkey!). If you are able to fill the venue we can offer other dates also.
Please call in, phone or email for more details and to make bookings.
https://latimers.com/wp-content/uploads/2011/08/20110826-135045.jpg
360
482
spotonlatimers
https://latimers.com/wp-content/uploads/2017/06/latimers-logo-stacked.png
spotonlatimers
2011-10-07 16:45:26
2020-11-03 10:43:41
Events Diary Autumn / Winter 2011