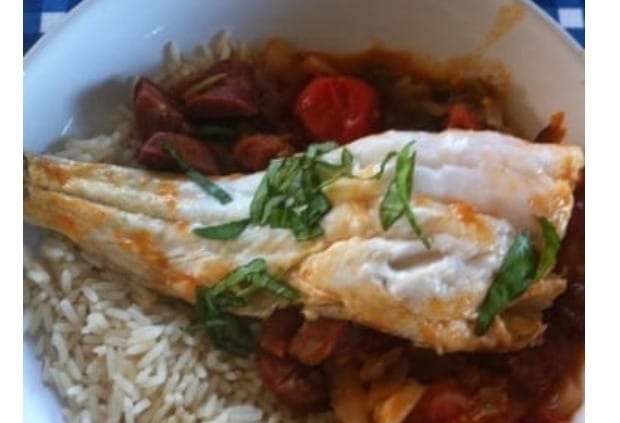 Hake with "Mediterranean" sauce #TrickyFishy
I'm using up lots of super, ripe tomatoes from the greenhouse and decided to make a Mediterranean style sauce to go with beautiful, fresh, local hake. I've kind of
made it up a bit with what was in the garden – so feel free to add or detract as you feel!
1 red and 1 white onion, diced
1 clove garlic chopped up
1 stick of celery chopped up
Softened together in a large frying pan with olive oil
Then I've added some chorizo about 4 inches cut into cubes and cooked for about 5 mins to before adding about
500g / 1lb of ripe tomatoes
I just added them whole and have covered the pan for a few more minutes. As the tomatoes have cooked some of the skins have just come off which I have removed as I've gone on.
I've added some chopped green beans a handful of fresh basil and a few sprigs of fresh thyme.
Next I've added the fillets of hake and poached them on top of the sauce with the lid of the pan. Just as they turn opaque I've served this up with rice.
If you try this out let me know by commenting on the recipe below.
Ps I would have liked to put some black olives in too but we've not got any in the garden!!
https://latimers.com/wp-content/uploads/2011/09/Hake-tomato-recipe.jpg
874
620
spotonlatimers
https://latimers.com/wp-content/uploads/2017/06/latimers-logo-stacked.png
spotonlatimers
2011-09-25 15:09:19
2022-01-18 17:18:11
Hake with "Mediterranean" sauce #TrickyFishy