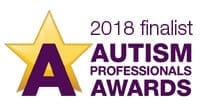 Latimer's Seafood finalist in the national 2018 Autism Professionals Awards
We have received national recognition after becoming a finalist in the prestigious 2018 Autism Awards to be held in Harrogate in March.
Robert and Ailsa Latimer were nominated by the Gray family in the Award for Most Supportive Employer category. The Gray's daughter 18 year old Sophie has worked at Latimer's for the last two years. Sophie and her 13 year old sister Chloe both live with Asperger's syndrome which can make social interaction challenging on a daily basis.
Sophie said: "Working at Latimer's has really helped me develop; before I worked here the thought of social interaction could be very daunting. Partly as a result of the support I've received from Ailsa and the Latimer's team I am now considering my future, although I have the qualifications required to go to university, I am instead choosing the apprenticeship route, I am not afraid of 'work' because I know there are supportive employers out there.
"My Asperger's doesn't define me, Ailsa has given me confidence and shown me I don't have to hide the person I am, I need to embrace the positive aspects"
Ailsa said: "Sophie has a particular aptitude for technology and she is also very creative so it's been easy really to ensure she can focus on these aspects for our business. She still works front of house with customers but we are also aware that she can experience being socially overloaded and the trick is to vary her duties so that this doesn't happen."
Click here to read local press article from the Shields Gazette
Ailsa and Sophie will travel down to Harrogate for the Awards which are hosted by Jane Asher, both are considering a new outfit for the event![/vc_column_text][/vc_column][/vc_row][vc_row][vc_column][vc_single_image image="7464″ img_size="large" add_caption="yes"][/vc_column][/vc_row]
https://latimers.com/wp-content/uploads/2018/03/NAS-Awards-finalist-button-2018.jpg
108
200
Ailsa Latimer
https://latimers.com/wp-content/uploads/2017/06/latimers-logo-stacked.png
Ailsa Latimer
2018-03-02 15:18:23
2020-11-03 10:41:36
Latimer's Seafood finalist in the national 2018 Autism Professionals Awards