Signe's Cherry Glogg Recipe

Cook the Perfect…Triple Cherry Gløgg
Triple Cherry Gløgg
Serves 10 in heatproof glasses or cups
For the Spiced Sugar Syrup
100g golden caster sugar
10 cardamom pods, crushed
5 whole cloves
3 peppercorns
3 star anise
1 cinnamon stick
1cm piece of fresh ginger
1 long strip of unwaxed clementine rind
(or citrus peel of your choice)
For the Cherries
150ml cherry cordial
150ml cherry liqueur such as Cherry Heering
100g dried sour cherries
75cl bottle of light red wine such as Beaujolais
To Serve
2 organic clementines,
peeled and sliced into discs
100g blanched almonds
Signe Johansen
Cherries have a particular resonance. They remind me of summers spent at my grandparents' fruit farm on the west coast of Norway. I can conjure up their intense flavour even on the darkest of midwinter days, and I enjoy nothing more than sharing that experience with friends and family with a glass of this Triple Cherry Gløgg—it's dark, rich, sweet and sour all at the same time.
To make the spiced sugar syrup, heat the sugar in a small saucepan with 100ml water. Turn off the heat as soon as the sugar has dissolved. Add all the spices and the citrus peel, cover and allow to infuse overnight or for at least a few hours.
Do the same with the cherries (but without heating them). Place all the ingredients in a bowl and leave covered overnight.
When you're ready to serve the gløgg, place the syrup and cherries in a large pan and heat gently. You do not want to boil this under any circumstances. It should be just hot enough so there is a little steam coming off the liquid but nothing more. I like to leave it on a low heat like this for about 20 minutes so all the flavours infuse together. Place one or two clementine slices in each glass or cup along with a couple of almonds and then carefully ladle in some of the gløgg. Serve while warm.
Tip: It's definitely worth making a large batch of spiced sugar syrup as it features in other recipes in this chapter, so double or triple the quantities for the syrup and keep what you don't use for the gløgg in the fridge in a sealed, sterilized glass container for up to 3 weeks.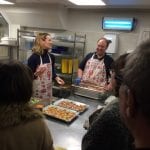 December 2016
Signe visited us on her UK book tour "How to Hygge", this is Signe and Robert during our Latimers Christmas Event – after sampling some gløgg …
https://latimers.com/wp-content/uploads/2016/12/Scandi-profile-pic-2.jpg
2048
1658
spotonlatimers
https://latimers.com/wp-content/uploads/2017/06/latimers-logo-stacked.png
spotonlatimers
2016-12-07 11:55:17
2022-01-18 17:04:43
Signe's Cherry Glogg Recipe