FAQ ~ Festive Fishy Orders 2021
As always – we've tried our best to keep as many of you lovely folk as happy as we can and to make shore that we'll get all the seafood your heart desires this Christmas and New Year.
However, as I'm shore you'll understand, this year what we do here won't be the same as it's been in the past. Please don't assume everything's the same as we've done it before. Read on and make shore you are up to date!
Making an order
Orders are ONLY taken online – no exceptions
Christmas Order book opens Friday 22nd October and will close no later than 9am Tuesday 14th December 2021
Once slots have gone – they have gone
If you've missed the chance – sorry, make shore you sign up to our o'fish'al newsletter so you don't miss the boat next year
If we have enough seafood left, we'll make platters for the shop counter for Christmas Eve – these will be strictly on first come first served basis and can't be "held" for folk
Re Collections 27th – 31st December 2021
This year we are taking orders for 27th – 31st December. The order book for these dates also closes on Tuesday 14th December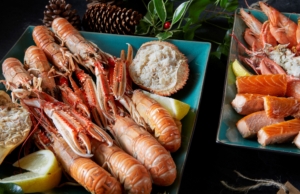 Products available to order
If product is not on website this means we can't guarantee we will have it in and therefore it can't be ordered
If that's what you want – you're more than whelk'ome to nip in the shop and sea if we have it in
This year we can NOT hold things as we have done in the past. Sorry
Seafood Selections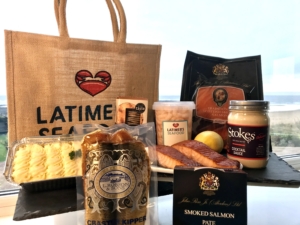 Three fish'licious selections for you to enjoy! Including some all-time favourites, that we think you'll love, they come in our Latimers Jute Hamper Bag and are fin'tastic to keep or give as a present!
All the selections can help make your fishy feasts last, we deliberately piked products that either have typical shelf life of 7 days or that freeze really well.
Available to pre-order online only
Shelf-Life information for Platters
Platters collected between 22nd – 31st December 2021 (and are stored in the fridge), are still perfect to eat for 3 days!
For instance:~
Collect 22nd -> Use By 24th December
Collect 23rd -> Use By 25th December
Collect 24th -> Use By 26th December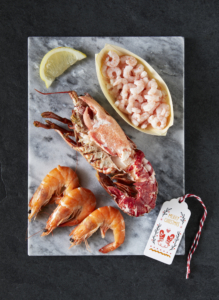 Shelf-Life Information for Picnic Boxes and Sandwiches
These will still be gorgeous to scrum up the day after you have collected them, so for example if you collect on 23rd December, you could have it for your Christmas Eve Feast while Santa Claude is getting the sleigh ready!
Changing / Amending / Cancelling Orders
In the event you need to cancel your order a 5% admin fee will apply. Please contact the office directly.
However, once we've started preparing your order it cannot be changed or cancelled, for Christmas orders this is from 14th December 2021.
In unforeseen circumstances, if we need to cancel your order; you will be refunded in full
If you need to change your slot ~ log into your Latimers online account and sea if there's any availability to change it
All our seafood is subject to availability, in rough sea conditions our fin'tastic fishermen may not be able to catch it, so we reserve the right to exchange products if need be.
Collecting Christmas Orders
Yule possibly not be coming inside the deli to collect your order, but yule be more than whelk'ome to nip in and get some more goodies though!  So, when plaicing your order, don't forget those little bits on the side; dressed crab shell, lemon, cocktail sauce, crackers etc.
The festive order collection point will be clearly signposted.
We'll still be maintaining all of our COVID secure measures and ask that you do too.  So please:
Keep to your chosen time slot, as that's how we'll have everything arranged in the cold stores and we want to keep queues to a minimum & keep risk as low as possible
Wear a mask if you can
Remember to keep a safe distance from others
Have your order details ready
We'll be fishing you a Merry Christmas
and all the best fishes for 2022
https://latimers.com/wp-content/uploads/2021/10/Fruit-de-Mer_Xmas-01-scaled.jpg
1327
2048
Ailsa Latimer
https://latimers.com/wp-content/uploads/2017/06/latimers-logo-stacked.png
Ailsa Latimer
2021-10-19 14:27:04
2021-11-05 10:16:22
FAQ ~ Festive Fishy Orders 2021