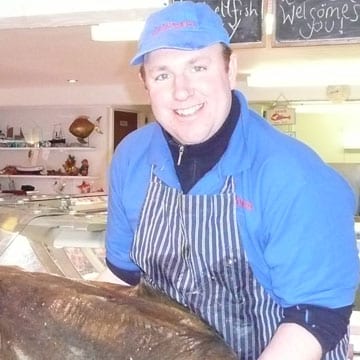 New and improved website!
We've been tweaking our website recently and adding some new great twiddly bits (many thanks to the guys at Urban River who do the very tricky twiddly bits for us).
We think some of the best new features are:
Twitter – Robert is going to 'tweet' every time he meets the boats and let all our followers (that means you lot need to sign up) what's just been landed and is fantastically fresh and good to get. He'll do this all the time so you can keep ultra up to date with whats good, local, seasonal and fresh when it comes to fish.
Also we will post items when we are doing events – ie with Terry Laybourne, filleting demos or have special offers in the shop and sending out discount codes through our tweets – so sign up and watch out!
Comments – if you want you can tell us what you think of us! What we are really interested in is what you think of us, your fish and what you did with it. If you've tried any of our recipes let us know how you got on or if you've used your own recipe and want to share it. Then we can build up a really good recipe library on the website for everyone to follow – even better if you take a photo and pass it on to! Of course you can comment on anything and everything you like.
Watch out for –
Coming soon you will be able to buy gift vouchers online through the website – very exciting, just imagine just how much easier life is going to be when you've a pressie to buy for a fish lover
https://latimers.com/wp-content/uploads/2011/05/news-1.jpg
360
360
spotonlatimers
https://latimers.com/wp-content/uploads/2017/06/latimers-logo-stacked.png
spotonlatimers
2011-05-18 13:49:04
2020-11-03 10:43:42
New Website