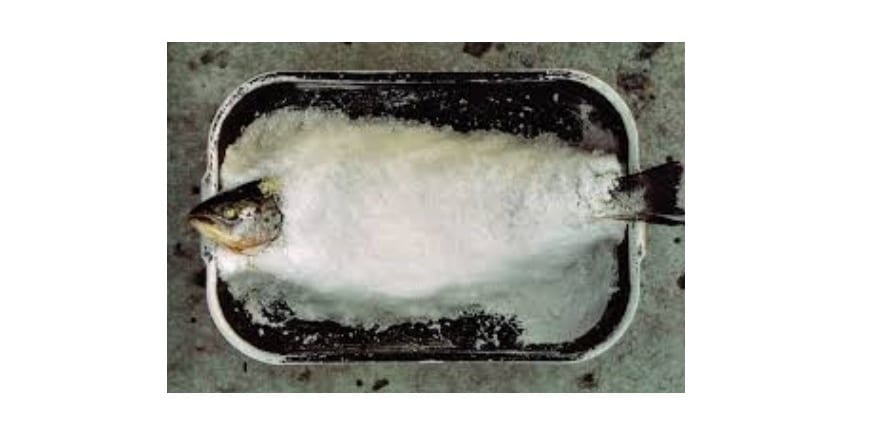 Whole Salt Baked Fish #TrickyFishy
Baking fish in a thick layer of salt looks impressive and it perfectly cooks your fish. It's simple to make, the salt lightly seasons the fish, but also traps all the juices and aromas from your chosen flavours. It's completely fool proof!
Preheat the oven to 220C/425F/Gas 6.
Ask us to scale and gut your whole fish of choice, we would recommend any large fish with Salmon, Sea Bass, Sea Bream, Red Mullet, Trout and Turbot working particularly well
Put the rock salt into a large bowl with 2 tablespoons of water and a couple of eggs.  You could add some fennel seeds / lemon zest also.  Mix it all together until it comes together.
Wash the fish well inside and out, pat dry with kitchen roll. If you wish you can stuff your fish with some lemon slices / thinly sliced fresh fennel or some fragrant herbs ~ parsley, basil or dill work well.
Place a layer of the mixture in the bottom of a large roasting tin (big enough to hold the whole fish)
Lay the fish on top of the salt, then cover it with the remaining mixture, the crust should be about 1.5cm thick and fully encase the fish, firm it down and then pop the fish in your hot oven.
The size of the fish will dictate the cooking time – smaller fish check at 20 -25mins, large fish 40-45 minutes. To check if it is cooked insert a sharp knife into the thickest part of the fish, if it comes out piping hot it's ready!
Leave it to rest for 10 minutes
Either deconstruct the crust in the kitchen or present it to the table as it is ~ it looks impressive!
To break the crust use a palette knife and ease chunks of the crust off, any remaining salt crystals can be brushed off with your trusty pastry brush.
Serving suggestions ~
French style ~ aioli, new potatoes and green salad
Italian style ~ pasta with roasted tomato and chilli sauce
Asian style ~ rice and stir fried vegetables
https://latimers.com/wp-content/uploads/2016/03/Whole-salt-baked-fish.jpg
620
874
spotonlatimers
https://latimers.com/wp-content/uploads/2017/06/latimers-logo-stacked.png
spotonlatimers
2016-03-25 11:05:58
2022-01-18 17:05:41
Whole Salt Baked Fish #TrickyFishy