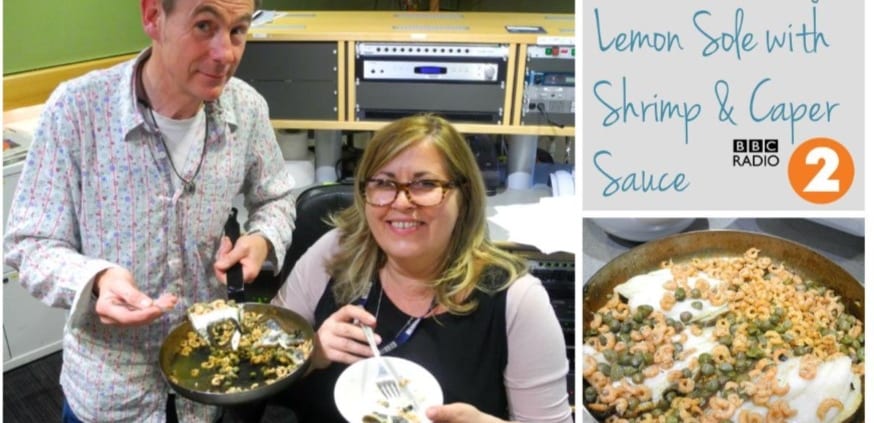 Latimers Lemon Sole with Shrimp & Caper Sauce on a Bed of Baked Leeks (As tasted on Radio 2 by Liza Tarbuck & Nigel Barden!) #TrickyFishy

Prep time 10 mins
Cooking time 1½ hrs
Serves 2
Ingredients
2 leeks, sliced into 1cm rounds
100g/7 tbsp butter, diced plus extra for frying
A small bunch of fresh marjoram
1 tsp Dijon mustard
Salt & freshly ground black pepper
2 whole lemon sole (each about 600g / 21oz) filleted
200g brown shrimps
100g capers
Method
Preheat the oven to 140C/gas 1.
Spread the sliced leeks on a baking sheet & cover with the diced butter, marjoram sprigs & mustard, & season with a pinch of salt. Cover with foil & bake in the preheated oven for 1½ hrs.
Heat a little butter in a large frying pan/skillet set over a medium heat, until just foaming.
Lightly sprinkle salt on the lemon sole fillets, then carefully place them skin-side down in the pan) place them in the pan away from you so that the oil doesn't splash & burn you).
Apply a little pressure initially using the flat blade of a fish slice to stop them curling up.
Once all the fillets are in the pan, turn the heat down & continue cooking until the meat has become two-thirds opaque.
Add the shrimps & capers & cover.  Continue to cook for another minute until the fillets are cooked through – they should be crisp on the skin-side & just cooked through on top.
To serve, place a generous portion of the baked leeks on a plate, place the fillets on top & dress with the shrimps & capers & some of the sauce from the pan.
by Mat Follas from Fish, Delicious Recipes for Fish & Shellfish (Ryland, Peters & Small)
https://latimers.com/wp-content/uploads/2015/04/lemon-sole-with-capers-radio-2.jpg
620
874
spotonlatimers
https://latimers.com/wp-content/uploads/2017/06/latimers-logo-stacked.png
spotonlatimers
2015-04-09 18:35:02
2022-01-18 17:09:35
Latimers Lemon Sole with Shrimp & Caper Sauce on a Bed of Baked Leeks (As tasted on Radio 2 by Liza Tarbuck & Nigel Barden!) #TrickyFishy