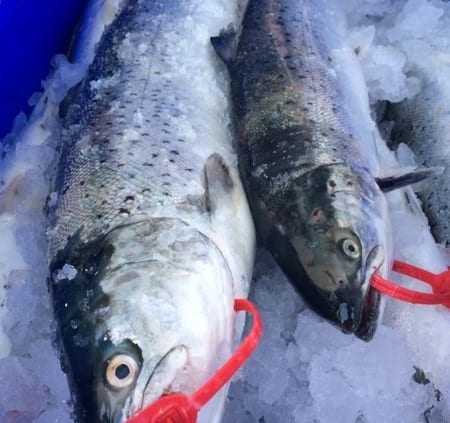 Poached wild sea trout with samphire and crab and potato salad #TrickyFishy
1kg whole wild sea trout (or wild salmon)
200 ml Latimer's fresh fish stock
50 ml white wine
2 fresh parsley stalks
2 fresh tarragon stalks
For the crab and potato salad:
new potatoes
1 small bunch fresh chives, finely chopped
1 small bunch fresh flatleaf parsley, finely chopped
150g cooked Latimers white crabmeat
Gut, clean and fillet the sea trout, (or get us to do it if you are not sure) removing any pin bones and the skin. Lightly season the fillets with salt and freshly ground black pepper, then cut into four equal portions.
Place the fish stock, white wine, parsley stalks and tarragon stalks into a pan and bring to the boil. Reduce to a simmer, then gently poach the sea trout fillets in the stock for 6-8 minutes, or until the fish is opaque and just cooked through. Remove from the pan and keep warm.
For the crab and potato salad, cook the new potatoes in a pan of boiling salted water until tender. Mix the chives and parsley with the crabmeat in a bowl, stir in a few tablespoons of  mayo. Crush the potatoes with a fork and mix into the crabmeat.
Blanch the samphire for a couple of minutes in boiling water
To serve arrange a sea trout fillet, crab and potato salad and some samphire on the plate.
https://latimers.com/wp-content/uploads/2017/05/img_3700.jpg
600
450
spotonlatimers
https://latimers.com/wp-content/uploads/2017/06/latimers-logo-stacked.png
spotonlatimers
2011-06-15 15:13:42
2022-01-28 09:58:32
Poached wild sea trout with samphire and crab and potato salad #TrickyFishy