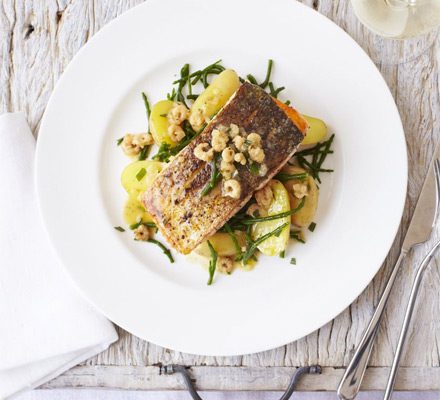 Sea Trout With Samphire, Lemon and Caper Butter
Serves 2
Ingredients:
350g Jersey Royal potato or small Charlotte potatoes
2 Sea Trout fillets, skin on, but scales removed
A pinch of cayenne pepper
1 tsp sunflower or vegetable oil
85g Samphire, well washed
1 tbsp capers
½ tsp butter
2 lemons, juiced
Salt and ground black pepper to taste
2 tbsps cold butter
(Brown shrimp can be added on top at the end)
Method:
Steam the potatoes for 15-20 mins, either using a steamer basket or a simple metal colander over a pan of boiling water, with a lid on top. Put 3 plates in a low oven to warm.
Slash the fish skin a few times, then season generously and sprinkle with the cayenne pepper.
Put a heavy-based frying pan over a medium heat, adding the oil once the pan is hot.
Cook the fish, skin-side down, for 6 mins, until the skin is golden and crisp. Avoid the urge to move it about.
Season the fish on the upper side, then carefully turn the fillets using a fish slice or spatula.
Cook for 2 mins more until the fish has changed from dark to pale pink all over, with a little blush remaining in the thickest part.
Transfer to a warm plate and wipe out the pan with kitchen paper.
Scatter the Samphire over the cooked potatoes, return the lid and steam for 2-3 mins until just tender.
For the sauce:
Crush the capers in a small bowl with the back of a spoon.
Melt 1/2 a teaspoon of butter in a pan over medium-high heat until the butter foams and is golden; sauté the capers until fragrant, about 15 seconds.
Add the lemon juice, bring to a simmer, and cook, stirring frequently, until liquid is reduced by one-third, which should take between 1 and 3 minutes. Season with salt and pepper then remove from the heat.
Stir the cold butter into the lemon mixture, stir constantly until butter is completely melted and the sauce is shiny and thick, about 1 minute.
https://latimers.com/wp-content/uploads/2023/05/recipe-image-legacy-id-1284537_7-ce34894.jpg
400
440
Kaitlin Carr
https://latimers.com/wp-content/uploads/2017/06/latimers-logo-stacked.png
Kaitlin Carr
2023-05-19 12:51:32
2023-05-19 13:37:37
Sea Trout With Samphire, Lemon and Caper Butter