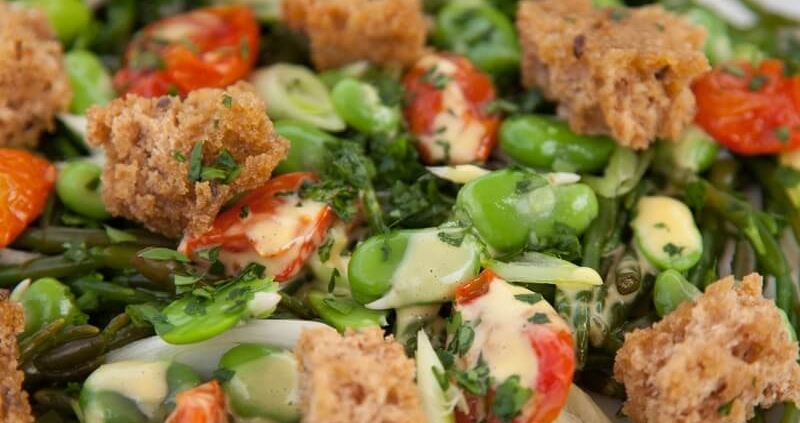 Samphire, Broadbean and Cherry Tomato Salad
Ingredients
Main
250g cherry tomatoes
200g samphire
1kg broad beans in their pods
2-3 spring onions, trimmed and sliced thinly at an angle
2 thick-cut slices day old bread
small bunch flat leaf parsley, roughly chopped
Dressing
½ garlic clove
1 tbsp mayonnaise
½ lemon
olive oil
salt and pepper
Method
Preheat oven to 120°C/Gas ½. Slice the tomatoes in half and lay face up on a baking tray. Season lightly with salt and pepper and a scant swish of olive oil.
Cook in the oven for 40-50 minutes – you want them lightly cooked and dried out to concentrate the sweetness.
Trim any tough stalks from the samphire, blanch in boiling water for 60 seconds, cool in iced water, drain and pat dry.
Pod the beans, blanch in boiling water for 2-3 minutes, cool in iced water and slip from their skins (a fun and tactile job until you exceed the need for more than a few kilos).
For the croutons, cut the bread into 2cm squares, or pull into small course chucks if you are feeling overwhelmingly rustic on the day.
Turn the oven up to 200 ̊C/Gas 6, lay the bread on a shallow baking tray and season with olive oil and a small amount of salt.
Toss the bread in the oil as if dressing a salad so that the bread soaks up as much oil as possible. Bake in the oven for 10-12 minutes, turning once half way through, until golden and slightly crisp.
For the dressing
Finely crush the garlic with a small pinch of salt, add the mayo a squeeze of lemon juice.
Whisk together and thin in to a dressing by adding olive oil. Add more lemon and seasoning to taste.
Mix all the ingredients in a large bowl and throw together with the dressing. Try not to fight over the croutons.
https://latimers.com/wp-content/uploads/2022/06/samphire-broad-bean-and-cherry-tomato-salad-800x800-183473034d95f924e3158b561c9c2e7d.jpg
800
800
Ailsa Latimer
https://latimers.com/wp-content/uploads/2017/06/latimers-logo-stacked.png
Ailsa Latimer
2022-06-10 14:09:22
2023-05-19 12:51:12
Samphire, Broadbean and Cherry Tomato Salad