Re: Opening date for Latimers Festive Orders   
Well, I guess like the vast majority of us, we're all not very sure about what Christmas holds this year…!  So, I thought I'd best tell you where we are at with our plans… 
 We're planning to open the order book a month before Christmas.  
 Waiting until last week of November gives you more time to figure out what you're doing and what you need to order, as remember our little website is unable to change orders once they're plaiced, so once your orders in, it's in or has to be completely cancelled*. 
 As a small fa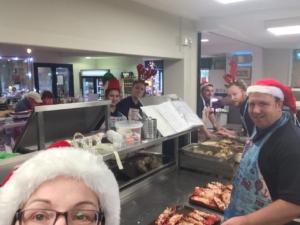 mily business trying to work out what we can offer this Christmas compared to previous years has been "challenging". For instance, last year to make everyone's Fishmas Breams come true – we had 28 staff on site from 4am on the 23rd & 24th December. This year that's just not be possible (although I'm hoping the crews alarm clocks still work!).  Mainly and most pressing is the need to keep our crew safe – we can't physically fit that many people into the building and keep our 2m rule, so we're hoping that we'll have all 15 current staff on site on both those important days. But you can see how that will impact on how much delicious fresh seafood we can produce – it only has a few days shelf life, so we can't "do" the work weeks earlier to spread the load.  Also, we're working really hard with our suppliers and fishermen, to make sure that our seafood supply is as reliable as possible and want to be confident we've done as much as we can to secure it for you.  
One of the biggest challenges has been trying to work out how much capacity we have for orders.  We are definitely only taking orders online this year, so once we open the order book, do get your skates on and get your order in – once the slots have gone, they've gone & I can't magic anymore from up my sleeve! 
 Also, this year, if you can't see the product you want on the website, unfortunately, this means it can't be pre-ordered, sorry. We may have it in stock on the day and you're more than whelk'ome to nip in the deli to sea, but we can't "hold" things as we have done in the past for folk. 
 Another decision we've made is to withdrawn 3 of the platters from sale for the moment (the dozen oysters on ice, poached salmon platter and roast smoked salmon platters).  I know this will disappoint some people, but we've decided to try and get what we do right, giving you the proper Latimers Experience – than over promising and inevitably disappointing folk – not my or Roberts happy plaice. 
 Likewise, we can't offer the usual "Contact Free" Collection service we've been operating since June** and this Christmas, collections will be a bit different to previous years.  Yule not be coming inside the deli to collect your order. So, when plaicing your order, don't forget those little bits on the side; dressed crab shell, lemon, cocktail sauce, crackers etc.  If you do need a bit more on the side than you thought – you can still pop in our shop and get it.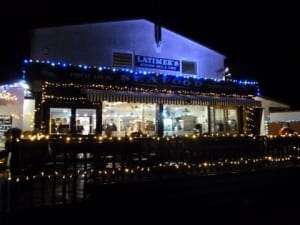 The order book is also closing a bit earlier this year (14th December) – this is to give us enough time to organise everything properly for safe collections, and while I'm talking about that, you can only come and collect your order in your chosen time slot – as that's how we'll have everything arranged in our cold stores. 
 Also, thought it was worth mentioning, that you could perhaps help us out a bit by potentially collecting your order on an earlier day, as, if your platters are collected between 22nd – 31st December 2020 (and are stored in the fridge), they're still perfect to eat for 3 days!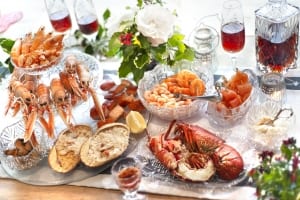 Platter Collect:       Platter Use by:   
22nd December     24th December  
23rd December      25th December   
24th December      26th December 
We've also decided to keep all platter prices the same this year as last year to spread as much Christmas joy as we can. 
If you keep a watch on the website over the next week or so you'll see we're tweaking the content and will be adding some delicious new "seafood selections" on there as well. Perfect for little presents, or even to treat yourself. 
 I hope this help answers lot of folks' questions about Latimers Festive Orders this year – please drop us a line if you have any other questions.  
 In the meantime get ready – follow us on facebook or sign up the newsletter for the announcement with order opening dates and make sure you don't miss the boat and if you haven't tried online ordering from us yet – give it a go, its simple and very secure, while you're on, open an account and you're all set. 
 Keep Safe Everyone 
Best fishes 
Ailsa Latimer  
*Once we've started preparing your order it cannot be changed or cancelled, for Christmas orders this is several days in advance. In the event you need to cancel your order a 5% admin fee will apply.   In unforeseen circumstances, if we need to cancel your order; you will be refunded in full.   All our seafood is subject to availability, in rough sea conditions our  fin'tastic fishermen may not be able to catch it, so we reserve the right to exchange products if need be.   
 **however, if do require a specific contact free collection (i.e. you are vulnerable & shielding) please get in touch as soon as possible, we may be able to help.  
https://latimers.com/wp-content/uploads/2017/06/PTA9553.jpg
4256
2832
Ailsa Latimer
https://latimers.com/wp-content/uploads/2017/06/latimers-logo-stacked.png
Ailsa Latimer
2020-11-11 15:07:41
2020-11-11 15:07:41
Re: Opening date for Latimers Festive Orders