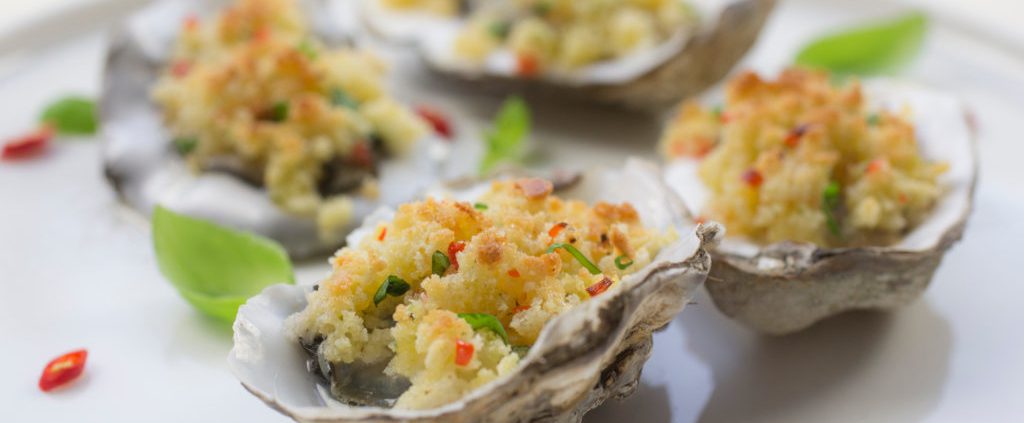 Spicy Oysters
-Put 15g butter in a small bowl and add 15g breadcrumbs, 1 crushed garlic clove, 1 tablespoon red chilli, finely chopped and 2-3 chopped basil leaves and bind together to make a paste.
– Divide the paste into four and place on top of each oyster.
– Grill in a pre-heated girl until the paste has melted and is lightly browned on top!
Sweet & Sour Oysters
– Drain oyster juices into a measuring jug and make up to 150ml with water. – Place liquid and oysters in a bowl, reserving the lower half of the shells.
– Heat 1tbsp of oil in a pan and add 1 crushed garlic clove, 1tsp ginger and 1tsp finely chopped red chilli and cook for 2 minutes until soft and remove from the heat and stir in 1tsp finely chopped fresh mint and 2tbsp lemon juice.
– Microwave the oysters for 1 minute and place each oyster back into a shell.
– Place a little of the mixture from the pan on top of each oyster and sprinkle with brown sugar, garnish with the chopped parsley and serve while still warm!
Oyster Au Gratin
– In a small pan cook 2 streaky bacon rashers for 1-2 minutes until crispy.
– Add 30g finely chopped celery and four finely chopped asparagus' and season with salt and pepper. – Spoon the bacon and asparagus mixture over the oysters and sprinkle over 30g of grated mozzarella.
– Cook the oysters under a medium grill for 3-4 minutes until the cheese is golden brown and melts
Or why not try our homemade oyster dressing?
Our red wine vinegar and shallots dressing is beautiful with freshly shucked oysters, simply spoon over the succulent meats before devouring the delectable morsels. Our classic Mignonette dressing is handmade here in store!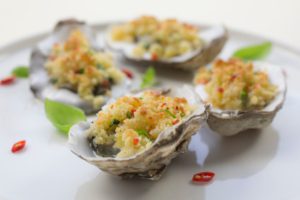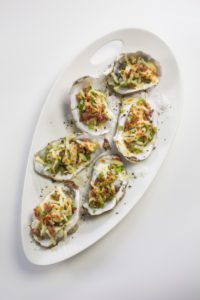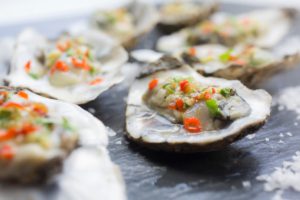 https://latimers.com/wp-content/uploads/2023/02/Spicy-Oysters-1-1024x683-1.jpg
683
1024
Ailsa Latimer
https://latimers.com/wp-content/uploads/2017/06/latimers-logo-stacked.png
Ailsa Latimer
2023-02-10 12:31:06
2023-05-19 11:53:43
Valentine's Oysters