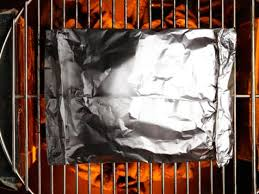 Shellfish Parcel on the BBQ
Super super easy!!
Can serve as many as you wish
Simply get any amount of Shellfish you fancy – we like fresh mussels and clams, and if we can get fresh razor clams and cockles we'll pop a couple of them in too!
Method:
Check the Shellfish before cooking – remove the 'beards' and discard any which are open BEFORE cooking
Make a tin foil parcel – use double thickness underneath and make shore there's plenty of room in the parcel for the steam to form
Pop the Shellfish in with some garlic butter / white wine / lemon jucie
Sit the parcel on the BBQ for about 4 -6 minutes – carefully open the parcel (watch out for the hot steam!) – you'll know the Shellfish is cooked as the shells will be open!
If not open wrap back up and give another couple of minutes
Then discard of any Shellfish which are still not open AFTER cooking for these extra couple minutes
Serve with salad and crusty bread!
https://latimers.com/wp-content/uploads/2023/06/foil-shelfish.png
194
259
Kaitlin Carr
https://latimers.com/wp-content/uploads/2017/06/latimers-logo-stacked.png
Kaitlin Carr
2023-06-09 13:08:06
2023-06-09 13:08:06
Shellfish Parcel on the BBQ